Assetto Corsa Server Manager Premium
The premium version of Assetto Corsa Server Manager adds a huge array of new features to your Assetto Corsa server, and comes included with any server rented from us!
We have rebuilt the Assetto Corsa Server itself from the ground up, improving reliability and performance and enabling some great new features included in the Manager, read on for more info!
Going Premium
There are two ways to get access to the Premium version of Server Manager:
Rent a Server - always-online server hosting for Assetto Corsa - with Server Manager Premium (obviously!). We handle setup and updates so you can get on and race!
Buy Server Manager Premium - purchase Server Manager Premium. This is a one-off purchase of $20. You will also receive premium versions of future Server Manager updates!
Features
We've added some exciting extra features to Server Manager, but they are only available to Server Manager Premium users!
Greatly Improved Live Timings - Live Timings for AC have never been this good! The Live Timings page now includes improved track maps (these are calculated by the manager and include the start finish line, pit lane, and DRS markings) and shows sector times, damage, steering angle, DRS usage, blue flags, tyres, Pit Lane status and more!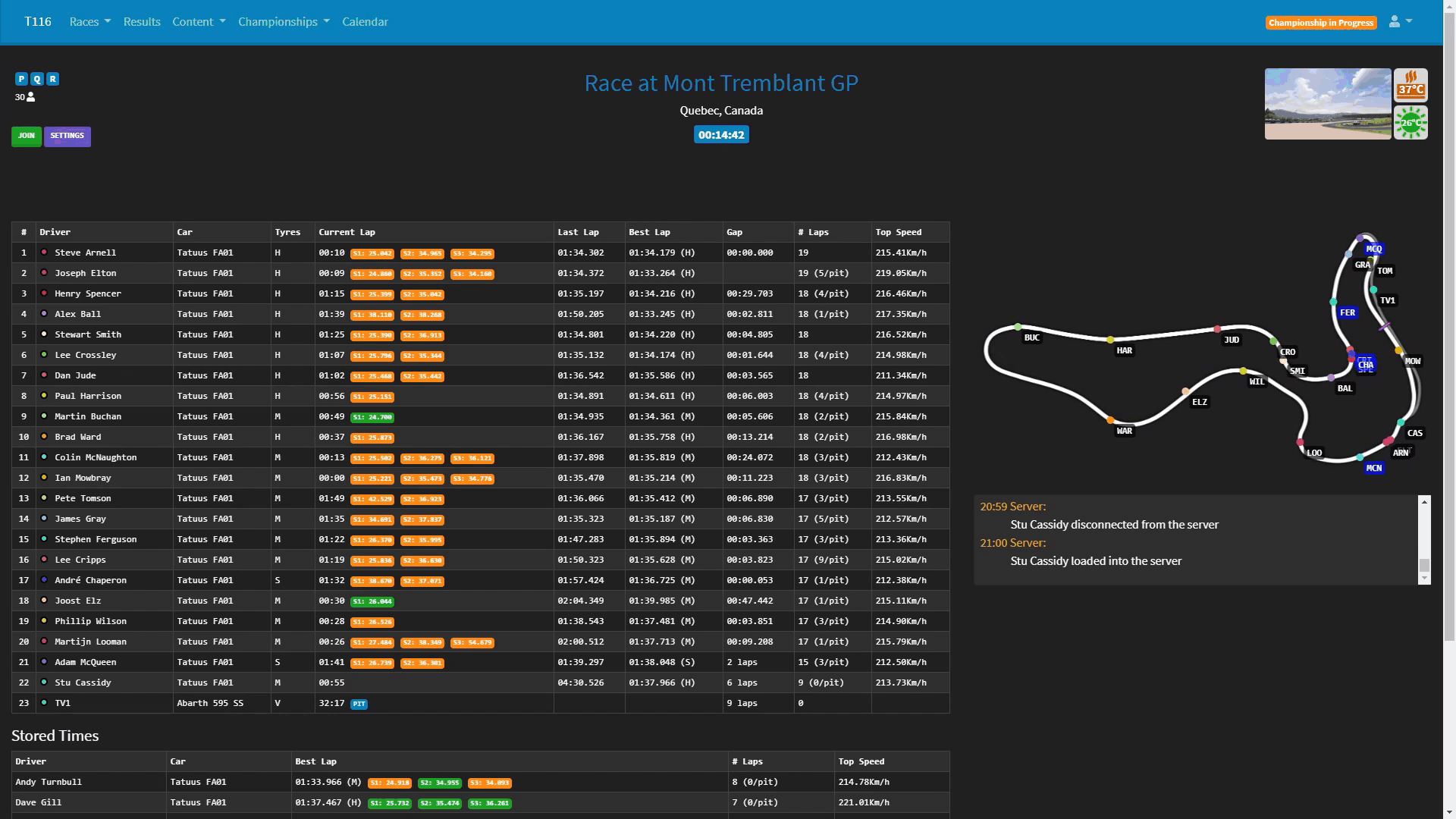 Race Weekends - a Race Weekend is a group of sequential sessions that can be run at any time. For example, you could set up a Qualifying session to run on a Saturday, then the Race to follow it on a Sunday. Server Manager handles the starting grid for you, and lets you organise Entrants into splits based on their results and other factors!
Driver Swaps - Allow you to plan races where two or more drivers share the same car! Our automated system ensures that the Driver Swaps are fair and take the same time. Driver Swaps can be used in Custom Races, Championships and Race Weekends!
Required Game Apps - Allow you to checksum any file inside the AC install folder of your drivers! Want to enforce the usage of Custom Shaders Patch, Sol, Crew Chief and any other app/mod you can think of? With this system you can do that easily! Please note that some apps can be installed but not activated, in some cases you cannot enforce that an app is active, only installed.
Server Side Penalties - Allow you to set penalties for cuts, collisions, incorrect DRS usage and tyre usage with multiple penalty types (drive through, kick, warning and ballast/restrictor) and no client side application required.
Improved Weather Control - Gives you much finer control over the weather in your sessions, you can specify the weather per-session and even change the weather mid way through a session!
Multi-server support - As part of the premium version of Server Manager, you will receive the multi-server management tool! This allows you to run multiple Assetto Corsa Servers at once through a unified version of Server Manager. You can share the content for the servers and the Championships, Race Weekends and Custom Races, so you can run multiple events at once!
Time Attack Events - These events let you run a looping session that combines all of the results files into one!
Solo Qualifying - This option allows you to have multiple drivers connected to a qualifying session at once without being able to see each other on track, they can get on with qualifying in peace without worrying about negatively impacting other drivers laps!
Assetto Corsa Skill Rating (ACSR)
- ACSR is a powerful new service that works in partnership with Server Manager. You can use ACSR to publish Championships so that other drivers can register! ACSR uses a powerful system which allows it to determine a rating for Driver's Skill and Safety, and a results index where drivers can track their progress! We're just getting started with ACSR, and we have plenty of ideas for new features! You can
learn more about ACSR here
.
Spectator Cars - Add a car to your Championship or Race Weekend which can be used as a spectator. This car will not be counted in Championship Points or as part of the Race Weekend splits. You could use this for a race director, or as your broadcasting car! Spectator cars are added to the back of the grid in every event they are part of.
Lua Plugins - We've added support for Lua scripts right here in Server Manager! They let you add your own features to Server Manager! We've created some example plugins too — such as: adding ballast to drivers based on their Championship position, setting the weather of your race to be the same as the weather in your area, and auto disqualifying drivers based on the number of collisions they have in a race.
New/improved chat commands - Commands that reference drivers can now use the car ID, name of the driver or GUID of the driver! There are also new commands such as the /pm command for direct messages and the /next_weather command to manually cycle configured session weathers.
Great Stability - Our Custom AC Server was built from the ground up to provide great performance and stability, and is integrated directly into our Manager to make the experience completely seamless!
Platform Support - Run Server Manager on anything you like. We've been testing it on a Raspberry Pi! If you'd like access to a build of our custom AC Server and Manager for a different platform to the ones we offer by default then please contact us!
System Requirements
The below should be taken as minimum requirements for running AC Server Manager.
A machine running 64-bit Windows, Linux (amd64 or arm64), or macOS
512MB of RAM (1GB+ recommended!)
2 modern CPU cores
We're planning on adding more features to both Server Manager Premium and ACSR, and every premium purchase helps us continue our development on these exciting projects!
Thanks, and Happy Racing!
Callum & Henry - Server Manager Developers